MIC MOSFET IRF840N
Infineon IRF840N MOSFET alternative equivalent replacement
Brand: MIC
Part Number:MIC-IRF840N
IRF840N. It is basically a N-Channel power Metal Oxide Silicon Field Effect Transistor (MOSFET) and operates in enhancement mode. MOSFET is a lot sensitive in comparison to anFET (Field Effect Transistor) due to its very high input impdence. IRF840N can perform very fast switching as compared to the normal transistor,Famous brand include Vishay,International Rectifier (IR) , Sanyo.Many end customer are looking for cost effective alternative and replacement solution for IRF840N. MIC brand IRF840N can be good option.
Following comparison of two type electrical performance:
Manufacture

MIC Brand

Infineon Brand

Part Number
MIC-IRF840N
IRF840N
Vds max (V)
500 V
500 V
Id max(A)@

25℃

8 A
8 A
Rds(on)(m Ohm)@Vgs=10v
0.85 Ω
0.85 Ω
TJ(

℃

)

-55 ~ 150

℃

-55 ~ 150

℃

Package
TO 220
TO220
Layout: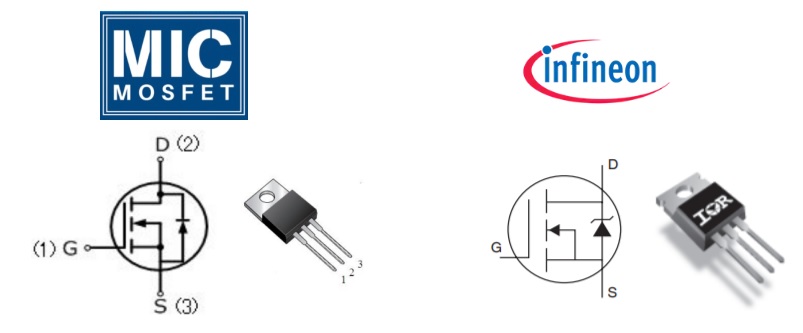 We can understand from above form,
1) Regarding Vds, or we call it "withstand voltage", MIC brand and Infineon brand in same 500V, that meet the requirement of the typical application like Lithium battery protection circuit 30V, sufficient margin lead to high reliability.
2) Regarding Rds(on), or we call it "dissipation loss", MIC brand Rds(on) and Infineon offer same 0.85Ω, in same level.
3) Regarding Id "current value", we see MIC brand and Infineon offer same 8A, in same level.
4) Regarding package, MIC brand and Infineon both offer TO220, with same layout can be pin to pin compatible.
About MIC MOSFET
MIC MOSFET is power semiconductor brand build up by "Circuit Ocean International", we design the MOSFET with innovate technology and using Taiwanese wafer and packing factory. MIC focus on provide alternative replacement solutioin for famous brand MOSFET, with cost effective yet keep highest electrical performance.
Download Datasheet of MIC-IRF840N